Millenicom Internet Service
Choose our Hotspot below or we can send you a SIM to use with your own compatible hotspot or tablet.
ZTE Z-917 Mobile Hotspot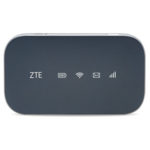 Your travels take you to blissful locales far and wide. There is a trade-off though: no connectivity. The solution is the ZTE Falcon Z-917, surf the internet on the go, uniquely built for blazing fast speeds even at a distance, even while you travel, even if your location is built with frequency-blocking materials. We like to call it the Millenicom Falcon.
Technical specifications can be found here.
Millenicom Data Plans come with:
Equipment purchase may be unnecessary, we supply the SIM
No Contract
No Taxes or Fees

LTE data usable throughout the US, Canada, Mexico and Europe

Unlimited Non-LTE data in the US, Canada, Mexico and in 140+ countries
Unlimited Movies … doesn't use your LTE data: watch Netflix, HBO, ESPN, YouTube and more
Unlimited Music … doesn't use your LTE data: enjoy Pandora, Spotify, Apple Music and more
All unused LTE data rolls over to the next month, up to 20GB/year