Check your device's compatibility with the Millenicom Network
It is possible our SIM works with your existing tablet or device. Check to see if your unlocked device is compatible.
Select the wireless carrier that you most recently used with your tablet or device and then enter the name of the device (e.g., Novatel MIFI 2372)
Your Connection, Your Way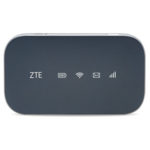 Data plan use only
Your travels take you to blissful locales far and wide. There is a trade-off though: no connectivity. The solution is the ZTE Falcon Z-917, uniquely built for blazing fast speeds even at a distance, even while you travel, even if your location is built with frequency-blocking materials. We like to call it the Millenicom Falcon.
Specs: Connects up to 10 devices via WIFI (smartphones, tablets, laptops, Roku, Apple TV, etc.), 4.13 x 2.36 x 0.63 inches, 4.23 ounces; 256MB RAM/512MB ROM; UMTS/HSDPA/HSPA+/WiFi 802.11 b/g/n, LTE band 2, 4, 12; UMTS band II, IV, V
Note: Our data plans are the 2-22GB plans.  This device will not work with the Ultimate plan.
I am raw html block.
Click edit button to change this html
Compact Mobile Internet Connection
This USB modem provides exceptional internet service at a 12 band required frequency for our network.  Enjoy fast speeds with no bulky equipment.  Just plug it into your laptop, desktop or compatible router and enjoy surfing whether on the go or in the office.
Also, check out our TL-MR3020 router to share the connection wirelessly or ethernet with others.
Mobile Partner Software Downloads
Download the Mac OS version of the Connection Manager for the Huawei 3276s-505 and install the .iso file.
For use with the USB Modem
The TL-MR3020 router enables easy-to-install wireless connectivity in small business or remote office locations. Ideal for small businesses, temporary command centers, home offices, recreational vehicles, and mobile networks, the TL-MR3020 provides 1 Ethernet wired, 3G/4G wireless WAN connectivity for 5-8 devices simultaneously as far as 50 feet away to keep you and your business up and running.
Specifications-For a complete list of specifications you can find it here
Interface
1 10/100Mbps WAN/LAN Port, USB 2.0 Port for 3G/4G modem, a mini USB Port for power supply.
Button
Reset Button, Mode Switch
External Power Supply
5VDC/1.0A USB plug or wall adapter
Dimensions ( W x D x H )
2.9 x 2.6 x 0.9 in. (74 x 67 x22 mm)
Connectivity
 1 wired ethernet port and wireless capability for multiple devices
Ultimate Bundle
= Savings
Purchase Together And Save
A perfect compact match.  Purchase the USB modem and router together for savings plus easy to take with you or use in a stationary location such as your home or office.  Get your internet and share it too.
4G-LTE Cradle Signal Booster

Boost your signal for exceptional performance in lower signal areas
Signal boosters increase cell signal by collecting signals with a powerful antenna, delivering those signals to the booster, amplifying the cell signals so your devices receive them, and delivering your device's boosted signals back to the cell tower.
Features
Boosts signal for all U.S. & Canada cell carriers                     
Friendly, U.S.-based customer support and customer care  
All components needed for installation in one package
FCC & Industry Canada Certified
The 4G-LTE Cradle Signal Booster is for use inside vehicles, to make the Booster function at your office or residence you will need to add the Office & Home Conversion Kit below.
Specs: 2.25 x 4.25 x 2.5 inches; 2.56 ounces, Band 2/4/5/12/13/17/25, 700 Mhz, 850 Mhz, 1700 Mhz, 1900 Mhz, 2100 Mhz; Max Gain 23 dB; Impedance 50 Ohms; Power 5.5V DC, 2.5 A; Connectors SMA-Female; UPC 811815025030
For those times when you aren't traveling
The Home Office Conversion Kit allows you to take your 4G-LTE Cradle Booster out of your vehicle and into your or office or even home. Includes the custom window mount antenna bracket for your 4G-LTE antenna, an adjustable desk mount and the standard 110 outlet plug-in.