Check your device's compatibility with the Millenicom Network
It is possible our SIM works with your existing tablet or device. Check to see if your unlocked device is compatible.
Select the wireless carrier that you most recently used with your tablet or device and then enter the name of the device (e.g., Novatel MIFI 2372)
The Ultimate Connection Mofi 4500
The revolutionary performance of the Mofi 4500 makes it the fastest router on the planet.  It's a rugged, high performance router with an embedded modem supporting the latest 5G and 4G LTE Advanced technology.
The upgraded antenna is already added for superior signal reception and speed. Equipped with software that includes Robust Fail Over, OpenVPN Server, Remote Cloud Management, and more.
The Mobile Adapter kit lets you take it on the road so you aren't tied down to the office and a secure Wi-Fi network assures you prevent unauthorized access.
| | |
| --- | --- |
| 4 ethernet ports +1 WAN port | Optional GPS model available |
| Built in Cellular Embedded Modem | |
| | Ad Blocker/Parental Control Built in |
Premium Streaming feature included when you purchase the Ultimate Plan with the Mofi 4500 so you save $25 every month.
Shipping $25 (Cannot be shipped to a P.O. Box)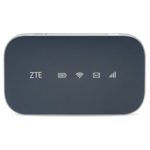 Data plan use only
Your travels take you to blissful locales far and wide. There is a trade-off though: no connectivity. The solution is the ZTE Falcon Z-917, uniquely built for blazing fast speeds even at a distance, even while you travel, even if your location is built with frequency-blocking materials. We like to call it the Millenicom Falcon.
Specs: Connects up to 10 devices via WIFI (smartphones, tablets, laptops, Roku, Apple TV, etc.), 4.13 x 2.36 x 0.63 inches, 4.23 ounces; 256MB RAM/512MB ROM; UMTS/HSDPA/HSPA+/WiFi 802.11 b/g/n, LTE band 2, 4, 12; UMTS band II, IV, V
Note: Our data plans are the 2-22GB plans.  This device will not work with the Ultimate plan.
4G-LTE Cradle Signal
Booster

Boost your signal for exceptional performance in lower signal areas designed for Hotspot devices
Signal boosters maximize device performance by increasing cell signal allowing you to get a strong signal in those weaker signal areas.  Place your hotspot device in the cradle to increase your speeds, minimize the risk of dropped signal and keep you connected in any vehicle.
Features

Boosts signal for all U.S. & Canada cell carriers
All components needed for installation in one package
FCC & Industry Canada Certified

Benefits

Extends cellular signal range
Reliable cell signal and more consistent data speeds
Faster data downloads
Specifications:
Model Number
470135
Frequency
Band 12/17
700 MHz
 
Band 13
700 MHz
 
Band 5
850 MHz
 
Band 4
1700/2100 MHz
 
Band 2
1900 MHz
Max Gain
23 dB
Impedance
50 Ohm
USB Port Power
5 V, 2.1 A
Power to Booster
12 V, 1.5 A
Connectors
SMB
Dimensions
.65 x 1.60 x 7 in
Weight
0.55 lbs / 0.88 oz